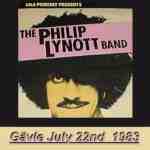 The Philip Lynott Band
GAVLE, SWEDEN, 1983
Live, July 22nd, 1983, in Gavle Sweden

CD-R



Yellow Pearl
Old Town
Sarah
A Night In The Life Of A Blues Singer
Look At These Eyes
Parisienne Walkways
King's Call (cut)
The Sun Goes Down
Cold Sweat
Dear Miss Lonely Hearts
Baby Drives Me Crazy
Dancing In The Moonlight
Solo In Soho
The Boys Are Back In Town
*** Special Note ***
This version of the Philip Lynott Band has also been known as The Three Musketeers and features: Phil Lynott, John Sykes, Brian Downey, Doish Nagle, Mark Stanway.
While I have made every effort to ensure the accuracy of this information, I provide it "as is" for your information only.
If you know of any errors or omissions please contact me via e-mail.
Return to Thin Lizzy Discography or MAIN Thin Lizzy page
Goto my HomePage