THIN LIZZY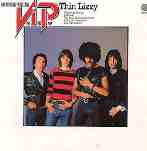 V.I.P.
12 inch LP
Record Label: Vertigo
Catalogue Number: 919985
Country of Origin: Germany
Year of Release: 1981

Tracklisting:

1. Whiskey In The Jar
2. Wild One
3. Jailbreak
4. The Boys Are Back In Town
5. Don't Believe A Word
6. Dancing In The Moonlight
7. Waiting For An Alibi
8. Do Anything You Want To
9. Sarah
10. Chinatown
11. Killer On The Loose
*** Special Note ***
While I have made every effort to ensure the accuracy of this information, I provide it "as is" for your information only.
If you know of any errors or omissions please contact me via e-mail.
Return to Thin Lizzy Discography
Return to my HomePage