THIN LIZZY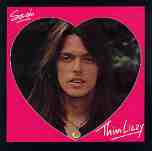 THIN LIZZY: SARAH with
the SCOTT GORHAM cover (1979)
7 inch single
Record Label: Vertigo
Catalogue Number: LIZZY5
Country of Origin: France
Year of Release: 1979

THIN LIZZY -- Sarah
Special notes:
1979 UK original Vertigo 7 inch b/w Got To Give It Up.
In laminated flipback picture sleeve of Scott Gorham.
One of the set of three issued for each band member!
*** Special Note ***
While I have made every effort to ensure the accuracy of this information, I provide it "as is" for your information only.
If you know of any errors or omissions please contact me via e-mail.
Return to Thin Lizzy Discography
Return to my HomePage