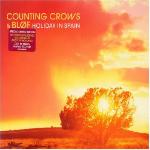 COUNTING CROWS with BLOF
Holiday in Spain (Limited Edition)
Limited Edition [CD-SINGLE] [IMPORT]
Disk 2 of a set of 3 limited editions CD-singles.
Title track with Dutch band BL0F
plus 3 bonus tracks LIVE AT AHOY, Holland.
Track Listings:
1. Holiday In Spain --- with BL0F
2. Rain King (Live At Ahoy)
3. St Robinson In His Cadillac Dream (Live At Ahoy)
4. Hanginaround -- featuring THE SHEER and BL0F (Live At Ahoy)
*** Special Note ***
While I have made every effort to ensure the accuracy of this information, it is provided "as is" for your information only.
If you know of any errors or omissions please contact me via e-mail.
Goto my Counting Crows Discography
Goto my HomePage
© Copyright 1995-2009 James Taylor
Cover art courtesy of David Geffen Records