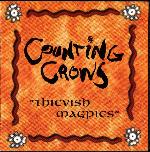 Counting Crows
THIEVISH MAGPIES
Playing time 56:41
Gotta Get Out
Round Here
Anna Begins
Omaha
Time And Time Again
Mr Jones
Cannonball
Goodnight, Elisabeth
Margery Dreams Of Horses
A Murder Of One
Sullivan Street
Notes:
Questionable information on the cover.
Cannonball is probably Forty Years; Cover says All songs recorded live at the First Avenue Club on Feb 3rd, 1994 but it is probably the same concert as As Funky As They Can Be.
Thanks to Carl for the cover scan.
---
*** Special Note ***
While I have made every effort to ensure the accuracy of this information, it is provided "as is" for your information only.
If you know of any errors or omissions please con any errors or omissions please contact me via e-mail.