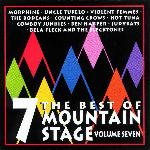 Various Artists... including:
COUNTING CROWS
The Best of MOUNTAIN STAGE
Volume 7
Blue Plate Music BPM-007CD
BEN HARPER - Mama's Got A Girlfriend Now (3:54)
COUNTING CROWS - Mr Jones (4:24)
VIOLENT FEMMES - American Music (3:58)|
HOT TUNA - Praise the Lord and Pass the Snakes (5:56)
MORPHINE - You Look Like Rain (3:39)
UNCLE TUPELO - Moonshiner (5:08)
THE BODEANS - Good Things (5:30)
BELA FLECK and the FLECKTONES - Magic Fingers (5:58)
JUDYBATS - Being Simple (4:14)
COWBOY JUNKIES - Pale Sun (4:35)


The COUNTING CROWS track was recorded at Mountain Stage, Charleston W V, on November 21st, 1993
NOT included on this CD, but also performed by COUNTING CROWS at Mountain Stage: Wiseblood, Perfect Blue Buildings, Rain King, A Murder of One

and Omaha.

About MOUNTAIN STAGE:

Moutains Stage is a weekly 2 hour live performance radio program broadcast nationally on more than 120 stations. Each show features three or four guest acts that typically defy categorization. Diversity is probably the most appealing aspect of Mountain Stage, which delivers great live performances from artists in the alternative, blues, folk, rock and world beat genres among others.

THE BEST OF MOUNTAIN STAGE series underscores the broad spectrum of roots music from here and abroad that is represented every week on the program.
---
Notes:
While I have made every effort to ensure the accuracy of this information, I provide it "as is" for your information only. The page is updated/corrected as new information becomes available.

If you know of any errors or omissions please contact me via e-mail.

One stop shopping: the BEST MUSIC STORES from around the world!

This page brought to you by:


THE real CANADIAN James Taylor, aka jt
Feel free to write... e-mail me YOUR COMMENTS ARE IMPORTANT.

Home

Thin Lizzy

Counting Crows

jt's E-MALL

Search

Other JT

MP3

Goto or MY HomePage