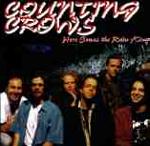 Counting Crows
HERE COMES THE RAIN KING
Tendolar
TDR-044
Live at Meriweather Post Pavilion, Columbia, MD
(cover says Columbus, MO)
August 1st, 1997.
from a Radio Broadcast
           

Angels of the Silences (cover says GONE)
Have You Seen Me Lately (cover says SEEN ME)
Rain King
Good Night Elisabeth
Children In Bloom
Anna Begins
Mercury (cover says SHE'S ALL RIGHT)
(So You Wanna Be A) Rock N Roll Star/Mr Jones
Omaha
Raining In Baltimore
Recovering the Satellites
   (audience sings Happy Birthday to Adam)
Daylight Fading
I'm Not Sleeping
Murder Of One
Around Here (partial song)


---
*** Special Note ***
Recorded on Adam's birthday in the town he was born in, with his family in the audience and his girlfriend 3,000 miles away. Did Jacob Dylan join them for a song?
While I have made every effort to ensure the accuracy of this information, it is provided "as is" for your information only.
If you know of any errors or omissions please contact me via e-mail.
Goto my Counting Crows Discography
Goto my HomePage
© Copyright 1995-1999 James Taylor