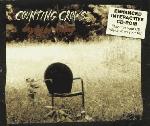 COUNTING CROWS
Daylight Fading
CD with interactive CD-ROM track



   CD-single with interactive CD-ROM track

   AUSTRALIA only

---
Three different CD's were release under this name, but with different song selections. See also Daylight Fading I and Daylight Fading II .
*** Special Note ***
While I have made every effort to ensure the accuracy of this information, it is provided "as is" for your information only.
If you know of any errors or omissions please contact me via e-mail.
Goto my Counting Crows Discography
Goto my HomePage
© Copyright 1995-1998 James Taylor
Daylight Fading cover art courtesy of David Geffen Records