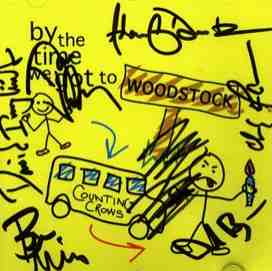 Counting Crows
By the Time We Got to Woodstock
Mr Jones --- Providence RI: 7-20-99
Angels of the Silences --- NJ Tradewinds: 7-19-99
Recovering the Satellites --- Thunder Bay Ontario: 7-12-99
Have You Seen Me Lately? --- Kitchner Ontario: 7-14-99
Daylight Fading --- Kitchener Ontario: 7-14-99
Mercury --- NJ Tradewinds: 7-19-99
Omaha -- Thunder Bay Ontario: 7-12-99
Round here --- Kalamazoo MI: 7-17-99
Rain King --- Kalamazoo MI: 7-17-99
A Murder of One --- Kitchener Ontario: 7-14-99
Goodnight Elisabeth --- Providence RI: 7-20-99
A Long December --- Kalamazoo MI: 7-17-99
Anna Begins --- Providence RI: 7-20-99

*** Special Note ***
A LIMITED EDITION official release.... probably only 1,000 copies made.
While I have made every effort to ensure the accuracy of this information, it is provided "as is" for your information only.
If you know of any errors or omissions please contact me via e-mail.
Goto my Counting Crows Discography
Goto my HomePage
© Copyright 1995-2000 James Taylor
Cover art courtesy of David Geffen Records.