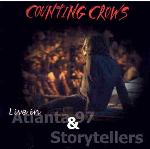 Counting Crows
ATLANTA 97 and
STORYTELLER 97
Atlanta: live Aug 4/97



Disk 1:

Recovering The Satellites
Angels of the Silences
Rain King
Goodnight Elisabeth
Anna Begins
I'm Not Sleeping
Mercury
Omaha
Raining In Baltimore
Have You Seen Me Lately
Daylight Fading
Children In Bloom
A Murder of One

Disk 2: 

Round Here
Long December
Walkaways
Long December
Angels of the Silences
Mr Jones
Rain King
Catapult
Have You Seen Me Lately
Ghost Train
I'm Not Sleeping
Sullivan Street

Featuring:
Matt Malley
Ben Mize
David Bryson
Adam Duritz
Dan Vickrey
Charles Gillingham
---
*** Special Note ***
While I have made every effort to ensure the accuracy of this information, it is provided "as is" for your information only.
If you know of any errors or omissions please contact me via e-mail.
Goto my CC DISCOGRAPHY or my CC LINKS page.
Goto my HomePage
© Copyright 1995-1998 James Taylor