COUNTING CROWS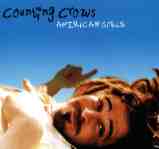 American Girls 2
Audio CD-single (IMPORT)
Label: Universal International

Track Listing:
1. American Girls [Album Version]
2. Blues Run the Game
3. Mercy

NOTES:
While I have made every effort to ensure the accuracy of this information, it is provided "as is" for your information only.
If you know of any errors or omissions please contact me via e-mail.
Return to Counting Crows Discography
Return to my HomePage