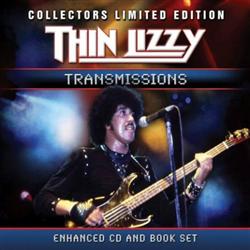 THIN LIZZY
TRANSMISSIONS
Record Label: American Legends Ltd
Catalogue No: SMC2644
Country of Origin: UK
THIN LIZZY Transmissions (2008 UK Limited Collectors Edition) enhanced CD album containing 10 sought after audio recordings from a glittering career including the legendary highlights of the live concert which dazzled audiences around the globe & spawned the album 'Thin Lizzy Live And Dangerous' performed by the classic Lynott, Downie, Gorham & Robertson line-up plus 4 live video performances, presented in a hardback book style package complete with 72-page booklet featuring extensive biography and discography information!
AUDIO TRACKS:
The Boys Are Back In Town (complete)
Emerald
Wild One
Massacre
Are You Ready?
The Sun Goes Down
Dancing In The Moonlight
Sha-La-La
Whiskey In The Jar
The Boys Are Back In Town (partial)
plus 4 live VIDEO TRACKS
*** Special Note ***
Selections are from various concerts over their career ....
While I have made every effort to ensure the accuracy of this information, I provide it "as is" for your information only.
If you know of any errors or omissions please contact me via e-mail.
Return to Thin Lizzy Discography
Return to Thin Lizzy MAIN PAGE
Return to my HomePage