PHILIP LYNOTT TRIBUTE CD
THAT BOY!!!
by Mark Kirkland and Jon Stone, aka
Nineteen
plus

CRIME RATE
by
Laurence Archer's Grand Slam
LIVE in concert 2003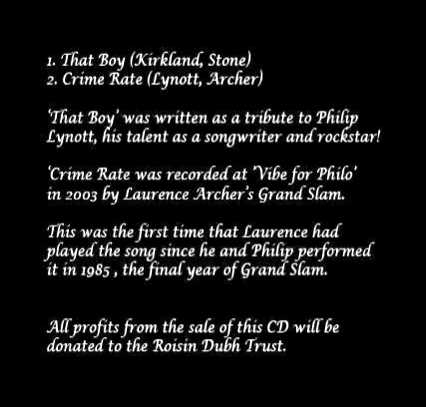 That Boy
To coincide with the unveiling of the statue of Philip Lynott in August, Mark Kirkland and Jon Stone from 'Laurence Archer's Grand Slam'- more recently known as 'Nineteen', have recorded and released a tribute single in memory of Phil.
Using countless Thin Lizzy references, the song 'That Boy' was written in recognition of Phil's unique character and charisma and has already been given Philomena's seal of approval.
Crime Rate
Also included on the CD is a recording of the Grand Slam song 'Crime Rate' recorded at the Vibe for Philo 2003. This version features some stunning playing from original Grand Slam guitarist, Laurence Archer.
The CD can be purchased initially from the band at
jon@hmclogistics.com
for £5.00 including postage.
All profits from the sale will be donated
to the Roisin Dubh Trust.