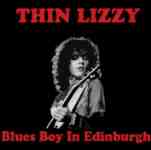 EDINBURGH
Edinburgh
31 March 1976
1.Jailbreak
2. The Boys are Back in Town
3. For those who Love to Live
4. Wild One
5. Emerald
6. It's Only Money
7. Romeo and the Lonely Girl
8 .Blues Boy
9. Warrior
10. Rosalie
11. Suicide
12. Sha-La-La
13. Baby Drive me Crazy
Special Notes:
While I have made every effort to ensure the accuracy of this information, I provide it "as is" for your information only.
If you know of any errors or omissions please contact me via e-mail.
This page brought to you by THE real CANADIAN James Taylor aka jt.