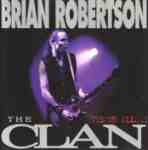 THAT'S ALL .. !
the CLAN
5 track EP
Recorded at the Dairy, London, 1995
That's All
(Robertson)
Do It 'till We Drop (Drop It)
(Barry/Miller/Robertson)
Try It Again
(Robertson)
Blues Boy
(Robertson/Lynott)
Don't Talk To Me
(Robertson)
*** Special Note ***
While I have made every effort to ensure the accuracy of this information, I provide it "as is" for your information only.
If you know of any errors or omissions please contact me via e-mail.
Return to Thin Lizzy Discography