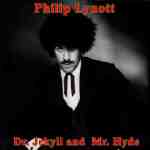 Philip Lynott and friends
Dr Jekyll and Mr Hyde

VERSION 1 --- see also: Version 2
In Honour of Philip's 3rd (unreleased) Solo Album
Nineteen
Still Alive
Can't Get Away
One Wish
Samantha
Hard Times
Freedom Comes
Breakdown
Whiter Shade Of Rolling Stone
Crazy
I Don't Need This
Slam
Sisters Of Mercy
Dedication
Harlem


*** Special Note ***
From the cover art:
Phil's 3rd Solo album was never released
This is as close as we can get.
all tracks demo's.
While I have made every effort to ensure the accuracy of this information, I provide it "as is" for your information only.

If you know of any errors or omissions please contact me via e-mail.