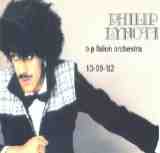 Philip Lynott
on the

B.P.FALLON ORCHESTRA
show.

Songs, demos and interviews.
Yellow Pearl
Together (Paul Brady demo)
Together (demo)
Little Bit Of water
Bad Experience (Auto Da Fe -- demo version)
Sarah
Cathleen
Growing Up
Still In Love With You (fade out)

*** Special Note ***
While I have made every effort to ensure the accuracy of this information, I provide it "as is" for your information only.
If you know of any errors or omissions please contact me via e-mail.