Version 1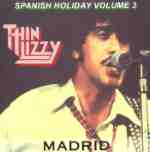 Version 2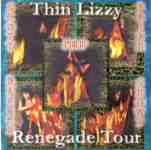 THIN LIZZY
Madrid Spain
March 9th 1982
Volume 3 (Version 1, above) of this series contains the following tracks, on TWO disks.

angel of death
renegade
waiting for an alibi
jailbreak
got to give it up
don't believe a word
killer on the loose
cowboy song
the boys are back in town
hollywood
suicide
bad reputation
baby drives me crazy
keep on rockin' (elvis)
are you ready?
Notice on the back cover of Version 2 (see below) that SCOTT GORHAM was absent from this concert.
Scott suffered from exhaustion during this tour and dropped out part way through.
The rest of the band completed the balance of the tour without him, including this concert. Definitely a different sounding Thin Lizzy!




*** Special Note ***

While I have made every effort to ensure the accuracy of this information, I provide it "as is" for your information only.

If you know of any errors or omissions please contact me via e-mail.
Return to Thin Lizzy Discography

Return to my HomePage