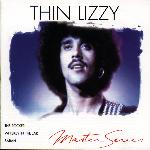 THIN LIZZY
MASTER SERIES
844 873-2 Deram, a Polygram Company © 1998
Digitally Remastered



The Rocker (Lynott/Downey/Bell) - edited single version
Whiskey In The Jar (traditional) - promotional edited version
Look What The Wind Blew In (Lynott)
Randolph's Tango (Lynott)
Sarah (Lynott) - version 1 
Things Ain't Working Out Down At The Farm (Lynott) - version 1
Here I Go Again (Lynott)
Vagabond Of The Western World (Lynott)
Buffalo Gal (Lynott)
Honesty Is No Excuse (Lynott)
Black Boys On The Corner (Lynott)
Dublin (Lynott)
Little Darling (Lynott)
Brought Down (Lynott)
Remembering Part 1 (Lynott)
Broken Dreams (Bell/Downey/Lynott)
Chatting Today (Lynott)
Little Girl In Bloom (Lynott)


Special Notes:
This collection brings together some of their earliest hits, along with a number of tracks not readily available elsewhere.
While I have made every effort to ensure the accuracy of this information, I provide it "as is" for your information only.
If you know of any errors or omissions please contact me via e-mail.