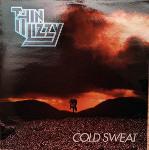 COLD SWEAT
Maxi-Single
LIZZY 1112





	Side 1
Cold Sweat
Bad Habits
	Side 2
Angel Of Death (live)
Don't Believe A Word (live)
---
Notes:
Side 1 tracks are from the forthcoming THUNDER AND LIGHTNING album.
Side 2 tracks recorded live at the Hammersmith Odeon 1981. Don't Believe A Word is performed slower, "the way it was originally written" says Philip as he introduces the song.
*** Special Note ***
While I have made every effort to ensure the accuracy of this information, I provide it "as is" for your information only.
If you know of any errors or omissions please contact me via e-mail.
Return to Thin Lizzy Discography or my HomePage
© Copyright 1995-1999 James Taylor