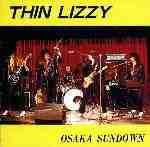 Osaka Sundown
Banpaku Hall, Osaka, May 21st, 1983.
Nightlife N-011



Thunder And Lightning
Waiting On An Alibi
Jailbreak
Baby Please Don't Go
Angel Of Death
Are You Ready
Holy War
The Sun Goes Down
Cold Sweat
Sha La La
Baby Drives Me Crazy
Still In Love With You
Rosalie


NOTES:
The Band:
Phil Lynott
Scott Gorham
John Sykes
Darren Wharton
Brian Downey
*** Special Note ***
While I have made every effort to ensure the accuracy of this information, I provide it "as is" for your information only.
If you know of any errors or omissions please contact me via e-mail.
Return to Thin Lizzy Discography
Return to my HomePage