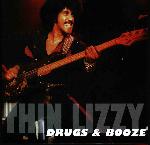 Drugs and Booze
live HAMMERSMITH ODEON 1980 (see note below)

+ THE RAINBOW THEATRE 1978

HOT LINE MUSIC Double CD made in Japan
Disk 1: ANOTHER WHITE LINE: CD 6071
1980

Angel Of Death
Renegade
Down On Your Luck
Waiting For An Alibi
Jailbreak
Got To Give It Up
Don't Believe A Word
The Pressure Will Blow (edit)
The Cowboy Song
The Boys Are Back In Town
Suicide
Bad Reputation
Are You Ready?


Disk 2: ANOTHER EMPTY BOTTLE: CD 6072
Baby Drives Me Crazy
Emerald
Rosalie

1978

The Boys Are Back In Town
Emerald
Dancing In The Moonlight
Angel Of Death
Still In Love With You
Don't Believe A Word
Are You Ready?
Sha La La La La La La La
Baby Drives Me Crazy
Need A Little Money


NOTE:
According to cover liner notes, Disk 1 plus tracks 1-3 of Disk 2 from Hammersmith Odeon 1980 with the remainder of Disk 2 from Rainbow Theatre 1978.

However, the so-called 1980 tracks are more likely from the Renegade Tour, probably Hammersmith, November (27th or) 28th, 1981.



*** Special Note ***

Thanks Phil O. and Sandy for your ever valuable assistance.

While I have made every effort to ensure the accuracy of this information, I provide it "as is" for your information only.