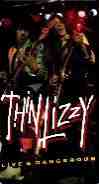 LIVE AND
DANGEROUS
VHS video -- approximately 60 minutes
Recorded Live At The Rainbow in London
(cover says Los Angeles)
AIP Home Video Inc --- A-8004
Introduction/Rosalie
The Boys Are Back In Town
Emerald
Dancing In The Moonlight
Massacre
Still In Love With You (cover says CALL ON ME)
Don't Believe A Word
Are You Ready
Sha La La
Baby Drives Me Crazy
Finale/Me And The Boys

NOTE:
Different selection of songs and recordings than is
found on the audio CD of the same name.
*** Special Note ***

While I have made every effort to ensure the accuracy of this information,
I provide it "as is" for your information only.
If you know of any errors or omissions please contact me via e-mail.
Return to Thin Lizzy Discography
Return to my HomePage